WELCOME TO THE TOY SHOP AT Tingley Garden Centre!
From Playmobil and Play Doh to TY, Jellycat and Disney, we've got a superb selection of quality toys for all ages in our toy shop!
Whether you're looking for a cute birthday gift or simply treating your little one, discover our fantastic range of toys and games including soft toys, engaging books, fun puzzles and much, much more!
Cute & CudDly
Explore our softest toys ever where you'll be certain to find a friend for the perfect cuddle!
Family Fun Board Games
Whether it's Monopoly, Cluedo or Trivial Pursuit, find the best family board games for your next game night!
Puzzling Puzzles
Settle down and get stuck into a puzzle that's certain to get your brain ticking!
Toys for tots
Discover our fantastic selection of baby and toddler toys including a range of early learning, sensory and wooden toys!
WE'RE PROUD STOCKIST OF LEADING
TOY BRANDS!
Explore the unbelievable cuteness from the creators of the softest toys you have ever hugged, cuddled and adored! There is always something original and quirky yet incredibly soft and sumptuous to find at a Jellycat jamboree!
Irresistibly cuddly and hilariously humorous, they're a perfect for all ages!

Browse our range of traditional wooden toys from Orange Tree Toys that are beautifully designed to entertain and educate.
From wooden push alongs, skittles, alphabet puzzles and many more, these fantastic toys are suitable for babies, toddlers and young children.

The iconic Playmobil figure, with its sweet smile, can slip into any role and any world!
The high-quality and long-lasting figures, vehicles, animals and locations stimulate imagination, creativity and tons of fun. Pick up a Playmobil set today to begin the adventure!

NEW to Tingley Garden Centre
cute and cuddly Care Bears!
Each with their own personality, choose from the Calming Heart Bear, Togetherness Bear, Sunshine Bear, Grumpy Bear, Good Luck Bear and many more! Plus, some even come with their own personalised feature such as a special limited edition coin or sweet scent, they're so loveable! A perfect gift for the little ones, browse our full range in store.
classic retro toys from Fisher Price!
We've had an extra special delivery of classic retro toys from Fisher Price! Whether you're a retro toy collector or just fancy a blast from the past, we've got a huge display of quirky and adorable 80's themed toys in store by our Giftware department! They're SO nostalgic! Do you remember these from when you were little?
Peppa Pig
From doll houses and cars to jigsaws and plushie teddies, Peppa and all of her family and friends can be found within our Toy department.
PETER RABBIT
Everyone's childhood favourite from the Beatrix Potter series. We have a large range of merchandise of Peter and all of his friends as they search of their next adventure!
Hop along to Grass Hoppers indoor and outdoor play area for a proper playtime!
You'll find a huge outdoor adventure playground with sand pits and bouncing pillows and a large indoor play area, with sports court, big play frame and a baby and toddler zone, where your young ones can enjoy playtime – whatever the weather!
Tingley Garden Centre
Hosting a family of experiences that our customers have come to know and love, Tingley Garden Centre is home to all of your favourites including Hearty's Food Hall and Bloom's Kitchen as well as a brand-new restaurant, The Garden Room, offering you a unique dining experience in a beautiful botanical-themed setting.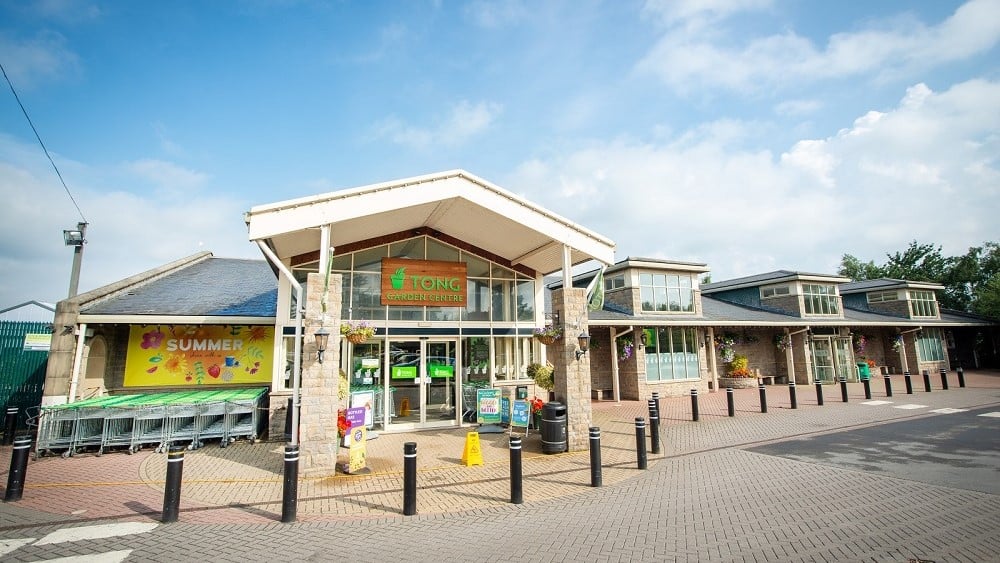 Tong Garden Centre is an award winning retail destination for families in the heart of Yorkshire. Nestled between the cities of Leeds and Bradford, within easy reach of the M62 and set in 17 acres of beautiful countryside, we are independently-owned and proud to play an active part in our community.